The Official Website of Stacy Harris

Copyright © 2017
S
tacy's Music Row Report All Rights Reserved
"Limited media seating available- first-come, first-served."

So reads the invitation from one of Nashville's top publicists, DON MURRY GRUBBS to "media friends."

The occasion? "RICKY SKAGGS & KENTUCKY THUNDER will be performing at the Bluegrass Nights at the Ryman concert series on
Thursday, July 27 at 7:30 P.M....

"We welcome your coverage."

Nashville's music media are marking their calendars for October 25th, 2017- and now we know why.

A month shy of his 79th birthday, KENNY ROGERS' grand entrance at a 10 a.m. news conference precluded Rogers' partaking in a sumptuous continental breakfast awaiting invited guests (then under a media embargo) at WME (lead anchor in Nashville's Demonbreun Street office tower) July 18, 2017.

The Gulch summons, answered with an elevator ride up to the 15th floor, turned out to be, after some introductory remarks by Blackbird Presents
CEO KEITH WORTMAN, for the purpose of Kenny's taking a limited number of questions about plans for the 7 p.m. CDT Wednesday evening staging of All In For The Gambler: Kenny Rogers' Farewell Concert Celebration at Nashville's Bridgestone Arena.

With guests yet to be announced (Rogers says just about every entertainer he's ever worked with has been invited), the confirmed lineup includes at press time includes DOLLY PARTON, ALISON KRAUSS, THE FLAMING LIPS, LITTLE BIG TOWN, JAMEY JOHNSON, ELLE KING and (JOHN TRAVOLTA's "favorite,") IDINA MENZEL.

Kenny, in fact, credits Dolly as having inspired the singular celebration of Rogers' 60-year career. Noting that "it had been 13 years since she and I had been on stage together, " Kenny said Dolly's response was "Are you

really

doing your farewell tour? You can't leave without me and you going on stage for the very last time and singing something."

The news conference seemed like deja vu all over again since it marked a decade since Webster PR issued an invitation to a Nashville news conference at which Rogers announced the lineup for Kenny Rogers: The First 50 Years. Like the
MGM Grand tribute concert announced at the 2007 news conference, the Bridgestone event is also being filmed in anticipation of a commitment from one of the television networks.

The former event ended up on GAC and it remains to be seen if a major network will see what is sure to be a sold-out concert as a potential ratings winner. In any case, multi-platform distribution is being planned "for distribution throughout traditional media (worldwide broadcast,music and digital)."

And event promotion doesn't stop there: Press conference attendees received a regulation-size playing card. While it wasn't missing from THE STATLER BROTHERS' "deck of 51," on one side of this delightfully unique collectors' item was the concert's logo and website, while the face side features a

K

above a

red heart

in the upper left-hand corner and an upside down
R
below an upside down red heart in the card's lower right-hand corner. In between an image of Kenny's upper torso is painted behind scrolls announcing the concert's date and venue, a guitar neck in Kenny's left hand and a couple of aces (spades and hearts) in his right hand above the motif's reversed image of Rogers.

Proving, if proof is needed, that K(enny) R(ogers) and amiable event host KIRT (WEBSTER) are never "out of aces!"
ROBYN COLLINS
reminds us that JEANNIE C. RILEY's recording of Harper Valley PTA "sold over six million copies as a single" making Riley "the first woman to top both the Billboard Hot 100 and U.S. Hot Country Singles charts with the same song."
Chart positions are verifiable. Pre-SoundScan sales stats, even those repeatedly quoted, not so much...

So should we take Robyn at her word that "the single's jump from 81 to 7 in its second week on the Billboard Hot 100 in late August 1968 was that decade's highest climb into the Top Ten"- without looking at every weekly chart from the dawn, to the close, of the '60s?

I ask because Collins writes that TOM T. HALL "got the idea for the name of the song when he passed the Harpeth Valley Elementary School in the affluent Nashville suburb of Bellevue, Tennessee." While Tom links the idea for the song to a trip that took him past the school, a description of Bellevue at that time as being "affluent" would probably be true only when contrasted with the Tom's net worth during those days.

Further, Collins credits Hall with the writing of Riley's 1984 recording of the sequel song,

Return to Harper Valley

. While the melody of both the original and the sequel are the same (i.e., Tom's), it is clear from "

Return

..."'s lyrics that Riley is correctly credited on the vinyl label as lyricist.


"Save the date."

So reads the beginning of
BRIAN RUBIN
's offer of media credentials for the Academy of Country Music's ACM honors to be held at the Ryman Auditorium on August 23, 2017. The event will be taped for broadcast at a later date on CBS-TV.
****
Some country-music fans believe the first time
CONWAY TWITTY
made legal history he did so posthumously as a result of a well-publicized blended family fight over Twitty's estate.
However, Conway, who told me during a 1972 interview that he was embarrassed by the closing of Twitty Burger Fast Food Restaurants (a business venture to which Twitty lent his stage name) the year before, ended up suing
WILLIE NELSON's pal, the Internal Revenue Service, in
a case Conway won on appeal in United States Tax Court.

In 1968 Twitty financed Twitty Burger Incorporated
with $100,000 he borrowed from about 75 friends and business partners (including MERLE HAGGARD, SONNY JAMES, BOB NEAL, SONNY NEAL, DON DAVIS and HARLAN HOWARD).


However, it seems that the restaurant chain's signature hamburger concoction (a quarter-pound ground sirloin burger topped with a deep fried graham cracker-crusted pineapple ring, mayonnaise, cheese and two slices of bacon, sandwiched within a hamburger bun) was not winning over (McDonalds?) customers. Financial difficulties developed in 1970 resulting in nearly all but one of the restaurants closing by the end of 1971.

Though Twitty would go on to invest in other businesses, he told the court the obvious; that he was not a businessman and that, after repaying his fellow investors with future earnings, he didn't have the assets with which to pay the corporation's debtors.

"I'm 99% entertainer," Conway explained at the time, adding "That's just about all I know."
Thus, when Twitty and the second of his three wives,

MICKEY

, were sued, amid allegations of "fraud and something to do with the security thing, " Twitty pleaded with the court, insisting his reputation as a man of integrity within the country-music industry was on the line (particularly if he were to be sued by Merle Haggard, Sonny James or other investors) and, were his "fans to give up on me, it would warp me psychologically. I couldn't function any more because I'm the type of person I am."

BILL IVEY testified in Conway's defense and the circling of the wagons resulted in the United States Tax Court ruling that Conway could write off payments he made to investors, deducting them as ordinary and necessary business expenses incurred as a result of Conway's being a country-music performer.

If that defense, predicated on the "motive of the taxpayer in making the payments" and "a sufficient connection between the expenditures and the taxpayer's trade or business," seems a little squirrelly, consider that Ivey underscored Twitty's opinion that a country-music artist's success is dependent on that person's image as being "morally right."

Thus "celebrity justice" was doled out for reasons that might not have past muster in the "outlaw era" that dawned shortly after the proceedings.

Further evidence of special treatment, not available to most moonlighters, was provided by The Tax Court in the form of a Court Order that included the lyrics of a song Judge

LEO IRWIN

penned just for the occasion:

Ode To Conway Twitty.

The song, likely not heard
most places outside the courtroom name-checks Haggard and James, which I'm sure Merle and Sonny appreciated!

Not to be outdone, the IRS' legal reps offered their own musical response, title "

Ode to Conway Twitty: A Reprise

."

Complete lyrics to either or both songs as well as the names of investors and the amounts they contributed are available upon request, via the email address listed here. Please put the information you are seeking in the

SUBJECT LINE

and include your name, city, and state (or country, if outside the United States) in the

BODY

of your email.

****
On June 21, 2017, about six months after
NAOMI JUDD committed to appearing at
a (subsequently canceled, "due to illness," but not rescheduled, as was the announced plan, "at a later date") January 30, 2017 ticketed talk and book signing, as part of an ongoing authors' series, most often held- as Naomi's was to be- at the Nashville Public Library's main, downtown Music City location, I received an invitation from JANICE GRAY in anticipation of the June 30, 2017 release of The Judds' All-Time Greatest Hits, a 21-song set featuring "the duo's top ten hits,
as well as a 2011 recording, You Can't Go Home Again (Flies in the Butter)." Product number B07259RB43

The invitation read "W
e are organizing a virtual press conference with Naomi Judd this Friday, June 23 at 1:30p CST. A virtual press conference is just like a press conference, but on a telephone conference line. If you're interested in participating, please respond and let me know so we can send you call-in details.

"Naomi will call into the line as well and be available for questions. We will moderate the call like a press conference. While we cannot guarantee you a chance to ask a question, it's a great opportunity to be on a phone call with Naomi Judd. Once the call is complete, we will send you audio from the call so you can transcribe it or use the sound as needed."

No offense intended, but as one of the first reporters to interview Naomi (at an RCA Records Vandyland news conference, introducing the mother-daughter duo to Nashville media prior to the release of the Judds' first recording) and one who deals in exclusives, I have to prioritize my time. It may be "a great opportunity" for the starstruck "to be on a phone call with Naomi Judd," but, as this is not the first provisional invitation I've received, at least one reporter, who regards journalism as a business, must take a stand for allowing time for every journalist invited to a news conference- virtual or not- to ask a question.

It's simply a matter of respect.

My question would likely be about why Naomi is only taking questions by phone. Due to the singer's fragility, as Judd candidly expresses in
River of Time...,
I don't think a truthful answer would be forthcoming.

The legitimate phone interview takes place when the news is pressing and the interview subject is geographically unavailable (such as when an
artist is on tour).

In my nearly half-century of covering music, I have rarely accepted invitations to do phoners. I have often been asked to do them- the worst are with groups.

Which voice belongs to whom? Is a comment being made seriously- or is it to be taken in jest? (Please don't make me guess...)

After interviewing EDDIE RABBITT a few times over the course of his career, Eddie asked me to do a phoner. I refused, though it may have
made history as the last one he gave. (Rabbitt did not want anyone to see him because he knew, by the spring of 1998, he had only days to live; a secret Eddie successfully kept from everyone, other than family and friends, throughout the progression of his battle with lung cancer.)


STACY HARRIS IS ON THE MAP!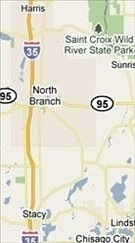 Infographic of WordPress Essentials by Industry – Brought to you from InMotion Hosting – A
VPS Hosting
Provider
``````
Top Resources for How to Make Money Online – Brought to you from InMotion Hosting – A
VPS Hosting
Provider
Have a comment or a question? Please check the

FAQs Page

(where you 'll learn of
Iceberg's identity) linked to this Report. Then feel free to respond to Stacy Harris by clicking

here.