The Official Website of Stacy Harris

Copyright © 2019
S
tacy's Music Row Report All Rights Reserved

Attention house hunters: Have I got a bargain for you!

"RAYNA JAMES"' home, (in reality, owned by a trust created by SYLVIA ROBERTS) has been on the market for nearly two years. It was originally listed for $17.999 million.

Located at 1358 Page Road in Belle Meade (the swanky Music City suburb), Roberts' home was used for filming of the ABC (and later CMT) show's exteriors. It boasts these stats: 20,533 square feet, six bedrooms and eight bathrooms.

Annual property taxes are $93,496.

So where's the bargain? Sylvia Roberts has reduced her asking price by $1 million. As of this writing she'll settle for a cool $15,999,000.

How affordable! Still interested?



We posed the question (see below): How often are your local drug dealers the sons of Music Row royalty?

We didn't receive an answer but if you ask if
SIDNEY SINGLETON, SHELBY SINGLETON's 64-year-old son, and DONALD PRESTON, FRANCES PRESTON's 63-year-old son, are convicted felons following their August 12, 2010 trial before Davidson County General Sessions Court Judge GALE ROBINSON, the answer is no.

Were they acquitted? That answer is also no.

After the charge was amended to the lesser offense of "possession or casual exchange," plea bargaining resulted in the two men agreeing to plead guilty to a misdemeanor so as not to be stigmatized and imprisoned as convicted felons. Each was then fined $500 and given probation, meaning that, if they behave themselves, the 11 months and 29 days they will otherwise have to serve in prison, remains a suspended sentence they will never have to serve.

It was not Singleton's first brush with the law. He knew how to work the system back in 1990 when, having initially received a DUI, Sidney again avoided incarceration, pleading guilty to a reduced charge of reckless driving and was fined $500.




As a book reviewer of several decades, I really appreciate JAMES JACKSON requesting my recommendations for the newly-published Boove's list of the best songwriters' books.

From the Music Row police blotter:
TONY BROWN's

ex

-wife (due, in part, to well-publicized allegations of spousal abuse), JAMIE NICOLE BROWN recently found herself on the other end of a domestic assault charge. Jamie copped (no pun intended) to turning a verbal argument with her betrothed, TONY BATES, the married father of three at the time of Jamie's marriage to, and breakup with, Tony Brown, into domestic assault.


Brown admits to biting Bates' forearm. By Tony's account he was bitten after Jamie threw his cell phone across the room of Bates' Lebanon, Tennessee home.

Brown told Lebanon police that Bates (
notoriously abusive TRACY LAWRENCE's buddy)
threw his own phone and, rather than trying to deescalate the conflict, as Tony claims, Bates threw his own phone, proceeding to choke Brown twice before she first hit his forearm in self-defense.

The arresting officer sided with Tony Bates. Jamie is set to appear in Wilson County General Sessions Criminal Court on September 17, 2019.


Meanwhile, JOSH HOGE, having provided Metro Nashville officers two different explanations of how he found himself charged with a DUI, was arrested and jailed for 45 minutes before bonding out. It was not Hoge's first brush with the law.
From the emailbag (and used with permission), JOHNNY COUNTERFIT writes "I was surprised by your article concerning the 'songwriting Feller' and agree that the Nashville Public Library should have added the book to its shelf (perhaps designating) local writers; the library rejected my published book as well.

"As a comedian, I must ask, did DICK FELLER change his name for surgical reasons?"
ZACH FARNUM
, having provided media access to the

Grand Ole Opry

on the occasion of

SCOOTER BROWN

's July 30, 2019 Opry debut, put out the welcome mat to media mat once again on August 6, 2019. The occasion?

KARISSA ELLA

's release party celebration for her EP,

Blossom

at

The Local

.
Fans packed the
(KENNETH) SCHEHERMERHORN Symphony Center
, welcoming JOHNNY RIVERS back to Music City on July 24, 2019. At 76, Rivers (
née
JOHN HENRY RAMISTELLA)
gave Nashvillians perhaps a last chance to see him "live" on the Nashville leg of what is being billed as Rivers' "Farewell Tour."
Johnny appeared sans the Nashville Symphony, though Rivers reminded ticket holders he is no stranger to performing with symphonies, though his last Nashville appearance was a guest spot on The Grand Opry.

Johnny noted that, at that time, he sang "two songs at the Ryman, which was kind of cool.

VINCE GILL played with us."
Rivers' brought another bit of local color to the evening as he introduced his musicians and backup singers, the best-known of whom is CACTUS MOSER.

As Johnny explained, he worked with Moser back when Cactus was a Los Angeles sessions player, prior to Moser's joining HIGHWAY 101 and, as Rivers added, Moser's marrying WYNONNA.
The evening's music began well before Johnny sang his first note.

He and the band kicked off the show with the familiar instrumental strains of Summer Rain, saving the lyrics for a full performance of the song later in the show.

Those first strains morphed from the song seemingly so titled to reflect the showers Nashvillians have accepted as going hand-in-hand with heat of summer, to instrumental excerpts of other songs fans were expecting Rivers would sing,
The instrumental medley of sorts segued into Johnny's performance of an elongated, bluesy version (Big)Midnight Special that was a departure from his energized hit version (not to mention WILMA LEE and STONEY COOPER's frenetic hit recording of the song, the popularity of which predates the Coopers', Rivers' and PAUL EVANS' memorable recorded performance).

This musical excursion was followed by Rivers' performances of songs the crowd came to hear- such as Seventh Son,

Mountain of Love

, Summer Rain,

Poor Side of Town, Slow Dancing
- as well as Muddy River.

With some of Rivers' biggest hits being cover records (
The Tracks of My Tears,
Baby I Need Your Lovin'
,
Memphis, Tennessee, Maybellene,
The Snake
,
Rockin' Pneumonia and the Boogie Woogie Flu
), it was easy for Johnny to transition to hit songs associated with other artists he has not recorded such as
One Love,
Lawdy Miss Clawdy,
Kansas City, Route 66 and House of the Rising Sun.

While paying tribute to songwriters WILLIE DIXON and JIMMY WEBB, Johnny noted that he was the first to record Webb's By The Time I Get To Phoenix (on Johnny's 1966 album Changes) but the song, which Webb wrote for PAUL PETERSEN, remained a buried treasure until GLEN CAMPBELL, heard Johnny's version, cut the song and Campbell's single became a worldwide hit.

Johnny Rivers came stage banter to a minimum, but his dry humor was evinced when the occasion to tune a guitar presented itself: "You know why we tune, don't you?," Rivers rhetorically asked the crowd, adding "Because we care."

That caring extended to Rivers throwing a few Secret Agent Man tee shirts into the crowd (before he'd even sung the song) for the benefit of a few lucky fans and giving every ticket holder the chance to join in as Johnny sang Baby I Need Your Lovin'. The latter lovefest was a display of Johnny's humor at its finest, involving a brief, PG-rated differentiation between "want," "need" and an artful demonstration of how to persuade inhibited or otherwise resistant men to join in on the chorus.

Only the encore seemed contrived, awkward in its execution as many encores have become with rarity haven given way to expectation, the predictability becoming evident when Johnny finally got around to singing
Secret Agent Man
. But he added a fitting benediction to the evening, mindful of who his audience was, by leading his group in Will The Circle Be Unbroken.

Rivers also proved a man of his word as he promised fans who had the time to wait once the show concluded that, "after I get cleaned up,"
he would be glad to sign copies of his albums, posters and other memorabilia available in the lobby as well as to briefly chat with them.

Clearly anticipating the line of loyal admirers vying for his time and personal attention, "I don't want to hear your life story," Johnny chided.


In case you missed it, my initial quest to find out whatever happened to DICK FELLER, and then to find out why a noted songwriter's first book gets no love from the Nashville Public Library culminated in a byline, the Tennessean column published online July 22, 2019 and made available to home subscribers and on newsstands two days later.
How often are your local drug dealers the sons of Music Row royalty?
SIDNEY SINGLETON, SHELBY SINGLETON's 64-year-old son, and DONALD PRESTON, FRANCES PRESTON's 63-year-old son, are scheduled for trial before Davidson County General Sessions Court Judge GALE ROBINSON August 12, 2019.

On May 7, 2019 Singleton and Preston were arrested and charged with selling pot, marijuana extract and liquid THC vials from a parked car in a a grocery store parking lot, after making arrangements for the sales on a website whose visitors included an undercover officer.

The ill-fated deal went down at Osborne's Bi-Rite, at 3116 Belmont Boulevard, less than 1,000 feet from Christ the King School (at 3105 Belmont Boulevard) where Preston and Singleton offered to sell an ounce of marijuana to an undercover detective for $300.

According to the arrest report, after Donald Preston exited the passenger side of the red Chevy Volt and got into the police vehicle to complete the transaction, the "deal" was considered sealed and both Donald and Sidney were taken into custody. A further "Carroll search" (so named following a Supreme Court ruling establishing that probable cause is sufficient- i.e. it is not necessary for police to first obtain a warrant- to justify the search of a lawfully stopped vehicle and its contents) revealed another 353 grams of pot, 2 cards of marijuana extract and 19 vials of THC liquid. Total weight: 2 grams.
Singleton and Preston were each charged with selling drugs in a drug-free school zones, which is a felony. Each posted a $10,000 bond.

Following a June 14, 2019 settlement hearing, the case was set for trial in August.
CONNER McKIEVER is alerting media that Austin-based, southern rock group COPPER CHIEF "will be performing at the High Watt" July 10, 2019 "and you're invited to a special meet & greet prior to the performance."
"Hi, STACY, you're invited!"

So read an invitation from JEREMY WESTBY and JASON ASHCRAFT's invitation to J.D. SHELBURNE July 2, 2019 "full band and industry showcase at Ole Red Nashville."

J.D. performed his past releases, some covers, and songs from his current album, Two Lane Town, including She Keeps Me Up Nights during an extended first set of the four-hour event.
Anyone who's read my review of JOHNNY LEE's most recent book knows I'm a big fan of Lee's (and my fellow) ghostwriter, SCOT ENGLAND's writing.
Recently, Scot was kind enough to send me two of his earlier books, as well as his newest collaboration. As I look forward to reading another of those books, (RONNIE MCDOWELL: Bringing It To You Personally)
I've just completed reading Lucky Me (MOE BANDY: The Autobiography) and
The Man in Back (JIMMY CAPPS: The Autobiography
)
.
The Moe Bandy book, notable from its first pages that include a foreword by late Bandy buddy BARBARA BUSH, inspires with its acknowledgment that Moe's career took off just as he was quitting music out of frustration. Readers learn that Moe has a niece with Down's Syndrome.
Bandy's ANSLEY FLEETWOOD story is not to be missed. Same can be said of why, when BOY GEORGE sued Moe and JOE STAMPLEY, only Stampley (who refers to the British singer as "that little pecker head") had to pay.
More? How about the time Moe says he beat up ANITA BRYANT's second husband, CHARLIE HOBSON DRY at Dry's invitation?
My book reviews are limited to current books, hence the abbreviated references to England's collaboration with Moe Bandy and a few of the highlights from England's Jimmy Capps book that follow.
Significantly, in addition to being a world-renown acoustic (and electric) guitarist and session player, cemented his future as a Grand Ole Opry staff band member after first appearing on the Opry at age 19!
Anyone who has ever spent any time at corporate Christmas parties (as they were then called) in general, and around Nashville's WLAC-TV (now WTVF) in particular, will get a laugh out of Capps' chocolate coat story.
Trivia buffs will also learn that Jimmy's son, MARK is the stepfather of ROY ACUFF's great-granddaughter and that Jimmy turned down opportunities to become one of ERNEST TUBB's Texas Troubadours and PORTER WAGONER's Wagonmasters.
Look for my review of Scot's newly-published hardcover, This Is My Story; This Is My Song: LULU ROMAN, The Autobiography here soon.
****
BENJI MICHAELS is first with the news of "a radical new hybrid approach to collectively experiencing live music and social action.


"

EMERGE

aims to reignite the role of popular music as a central driver of social change by showcasing headliners around women's and minority equality, LGBT rights, immigration, gender identity, and the political issues that define our generation."
The two-day event (May 31- June 1, 2019 at the Las Vegas Hard Rock Hotel) features a great lineup of speakers and musicians.
For the complete list, showcases schedule and information on how you can get involved, click here.
****
BEV MOSER's invitation to attend ERICA STONE's May 20, 2019 showcase at Nashville's Analog at Hutton Hotel was not just an album release

party.


T

rue, Erica performed songs from Antidote, but publicizing her new music was not Stone's only mission. Those on hand for the "private music industry event" were also treated to Erica's "sharing stories" from "her new best selling book, and the film that's made about her work in Sierra Leone on behalf of orphans and children" (sic)… Her #1 bestseller Gray will also be available on site." (Look for my review of Gray here!)
****
MARTHA MOORE and event emcee DAVID PRESTON pulled out all of the stops at MARTY BROWN's May 16, 2019 CD American Highway release party at BMI.
David presented Marty with BMI's Million-Air award, which, in Brown's case, could be renamed the

Multi

-Million-Air award, since "as is" it commemorates the first mil of over

five

million radio spins of TRACY BYRD's hit (which Byrd co-wrote with Brown), I'm From the Country.
After the presentation, which found Marty teasing David about Preston's "killer hair," though we had just been introduced, Marty beckoned a photographer, insisting on a photo with me. I hope my reputation precedes me, but my guess is Marty was more impressed by my observation that I was probably the only person in the room who first became aware of him while watching his March 13, 1991 appearance on CBS' 48 Hours (before the network dumped the series' news magazine format, rebranding it as a "true crime" franchise).
I also schmoozed with Marty, his mom,

BARBARA

, SHANNON POLLARD, BOB PAXMAN, JON TIVEN and SALLY TIVEN. (The Tivens are about to celebrate their 40th wedding anniversary!)
MARTY BROWN, JR

.

, also on hand, was given a performance spot as his dad (and cowriter) took a brief break from performing a few of the songs on his new album on the makeshift BMI stage.
STACY HARRIS IS ON THE MAP!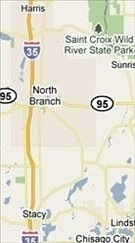 Infographic of WordPress Essentials by Industry – Brought to you from InMotion Hosting – A
VPS Hosting
Provider
``````
Top Resources for How to Make Money Online – Brought to you from InMotion Hosting – A
VPS Hosting
Provider
Have a comment or a question? Please check the

FAQs Page

(where you 'll learn of
Iceberg's identity) linked to this Report. Then feel free to respond to Stacy Harris by clicking

here.