The Official Website of Stacy Harris

Copyright © 2018
S
tacy's Music Row Report All Rights Reserved
BEN RUE
discusses life after a type 1 diabetes diagnosis with BAILEY McGRATH in the Summer, 2018 issue of Diabetic Living. (Ben learned he was diabetic at age 14.)

Sad news for fans of CMT's Nashville. The parents of series stars LENNON STELLA and MAISY STELLA are splitting up. The real-life teenaged sisters' mother, MARYLYNNE filed for divorce from BRADLEY PETER STELLA in Davidson County Circuit Court on April 25, 2018.

Brad has 30 days from the date of service in which to respond. Once a response has been filed, the case will be assigned to one of the "two Phils:" Judge PHILIP SMITH or Judge PHILLIP ROBINSON.



I'm not passionate about Christian Music, for obvious reasons, but if you are, and would like "to serve songwriters and publishers as a Publishing Administrator," do I have a job for you!

If selected, you'll "work with VP of Administration and Corporate Affairs to assist with royalty administration tasks for HoriPro Entertainment Group. The position will also assist [sic] with some licensing and copyright duties."

Qualified applicants will have three to five years of music publishing administration experience, be Microsoft Excel proficient, extremely detail-oriented, highly organized, skilled researchers able to "self-prioritize multiple workloads and maintain a positive attitude under the pressure of deadlines," be quick-learners able to "master new software and technology applications," and draw on "solid analytical and mathematical problem solving abilities." They will also need to be "excellent writers" and skilled verbal communicators.

If you're interested in this full-time job
(including benefits), email your
résum
é, including references, to Carrie.

For a list of other current Music Row job openings, go premium.




Thanks to KATHERINE FARRELL, organizer of the Music Notes track, for the offer of Collision 2018 media credentials. The annual conference is set for April 30- May 3rd at the ERNEST N. MORIAL Convention Center in New Orleans.

Further information on the event click here.


STACY HARRIS IS ON THE MAP!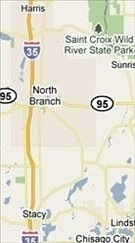 Infographic of WordPress Essentials by Industry – Brought to you from InMotion Hosting – A
VPS Hosting
Provider
``````
Top Resources for How to Make Money Online – Brought to you from InMotion Hosting – A
VPS Hosting
Provider
Have a comment or a question? Please check the

FAQs Page

(where you 'll learn of
Iceberg's identity) linked to this Report. Then feel free to respond to Stacy Harris by clicking

here.