Company Nashville

, home of Capitol Records Nashville, EMI Records Nashville, MCA Nashville and Mercury Nashville
, and
(by extension
) KACEY MUSGRAVES, GEORGE STRAIT, DIERKS BENTLEY, ERIC CHURCH, ALAN JACKSON, DARIUS RUCKER, CHRIS STAPLETON, LITTLE BIG TOWN, SHANIA TWAIN, KEITH URBAN, VINCE GILL and LUKE BRYAN, is looking for a
''production & finance coordinator.''

The perfect hire will ''work with Internal and External Clients to gather and maintain information such as label copy, PRO and splits. Keep production schedules updated and distribute as required. Assist the COO, SVP of Business
& Legal Affairs and other team members in scheduling meetings and providing agendas... Schedule, plan and coordinate travel arrangements for the COO,'' etc.

Qualified Applicants, those with a ''Bachelors degree, preferably with a concentration in finance or business administration... 3+ years' finance or business-related experience'' and ''proficiency in Excel, Word and Power Point'' who preferably have ''Experience in production software'' are encouraged to ''Bring your vibe.''

As for ''What's in it For You
?
''
: A ''
Competitive Compensation Package includes Salary, Benefits and Generous 401k Savings Plan, Paid Time Off- Paid Holidays, 'Gift Week,' Summer Fridays, Student Loan Repayment Assistance, Employee Development Support, Annual Gym Reimbursement Package, Pet Insurance, plus much more!''
****


Between May and September, 2020, ''GlobalGiving, via the Red Backpack Fund, will award at least 1,000 emergency assistance grants to majority women-owned businesses'' and United States nonprofits. Each $5,000 grant will be awarded to those entities with less than 50 people on staff. Grant eligibility is also limited to applicants that are in ''good standing,'' are ''incorporated as a legal entity'' and are able ''to demonstrate that COVID-19 is causing hardship.''

Music Row vets: Are you looking for a job?

If you have a college degree (Master's or equivalent preferred), a minimum of a decade's "experience in an executive position interfacing with creators, users and/or rights owner" and "at least five years' in management roles,"
BMI wants to hire you as a "VP Creative."
****
MICHAEL BRANDVOLD is first with the news that the Clifton, New Jersey non-profit D.A.D.
(Drums and Disabilities) is offering a free, online
(via Skype)
online drumming program ''in an effort to help parents entertain their children and families" during coronavirus quarantine.
To schedule a free, online Drum Therapy session for children, yourself and/or family members who might benefit from this stress and anxiety-relieving opportunity to have fun while developing physical and cognitive abilities, click here.
****

An open appeal to KALIE SHORR: Let this public notice serve to inform you that I am trying to reach you as part of an obligation to exercise my responsibility as a reporter and to exercise due diligence as I try to make sense of a developing inquiry.

Know that I have been in contact with ZACH FARNUM and TODD CASSETTY in an effort to verify and otherwise authenticate some information that may pertain to you, as part of what is becoming that larger story. (So many times entertainers react to news coverage by complaining that there was never any attempt to reach them when, in fact, their handlers have been informed and have simply chosen not to get ahead of the story or to otherwise respond in a responsible- in this case to a client- manner.)

Please contact me via email by April 15, 2020 so that I may respond with some written questions prior to concluding my investigation. Following the deadline and posting of whatever information I have been able to attain to that point, if you, or anyone else mentioned or otherwise affected, have additions or corrections, rest assured I will be happy to include those in any ongoing updates that arise as new sources/information become available.



Confirming my exclusive of several days before, the

Country Music Association waited until March 31st to do so, but the CMA has made it official :
The 2020 CMA Music Festival has been canceled. News that advance registrants, unless they request a full refund, may consider themselves registered for next year's event coincide with a Nashvillians being advised that their mayor, besieged by his predecessor(s) representing Music City's debt as a surplus, coupled with a legal requirement to balance the budget in the wake of recent revenue depletion due to the recent tornado or coronavirus disasters, is recommending passage of a "substantial" property tax increase.

Assuming an eventual referendum resulting in approval of the full amount of the recommendation, Nashville's coffers will still be underfunded. This means when tourists return in 2021, they may expect to be paying an increase in the hotel/motel tax,
shop locally (due to an increase in the sales tax) or to park downtown,
if not otherwise sharing the pain Nashvillians will be feeling when faced with a dependence on other sources of revenue, such as increased business taxes and hikes in rent.


Thanks to Harvard Business School Professors of Business Administration ZOE CULLEN and CHRIS STANTON for requesting Stacy's Music Row Report's participation in a survey of conducted by academics from Harvard and the University of Chicago. My fellow academicians "are looking to better understand the impact the coronavirus is having on the local business ecosystem- and what can be done to help local businesses.

"We hope that it will help to communicate your current needs to policymakers."

Thanks also to TINA ARNOLDI, MA., author of Social Media Use in a Volatile Political Climate, for publishing my views on the subject in her Theravive article.
UPDATE

:
The
Navex Global inquiry has concluded, and frankly, it's gotten rather snarky and otherwise ugly.

Before I elaborate, I'm still hoping to reach
AUSTIN RICK
, and to hear from
JESSE KNUTSON on where Jesse has landed, as well as to determine the true victims and villains (if possible) in the drama that has resulted.


Column's sympathy to JOE DIFFIE's family, friends and fans on Joe's passing on March 29, 2020 due to COVID-19 complications, just two days after Joe, through his publicist, SCOTT ADKINS, had gone public with Diffie's diagnosis.

The March 27, 2020 statement, coming several days after Joe tested positive, telegraphed the inevitable with the familiar language of requesting "privacy at this time."

Meanwhile, the superstition re: deaths of occurring in threes after the deaths of Joe Diffie and JAN HOWARD is troubling fans of JOHN PRINE. Prine, whose wife/manager FIONA is recovering from coronavirus, has himself been hospitalized, in critical condition, since March 26, 2020 with symptoms suggesting the disease.
****

If you were watching the Grand Ole Opry live on March 28, 2020 and saw the clumsy way the Opry tried to align the radio and TV simulcast, you could only imagine, based on what you heard from an off-camera announcement in mid-sentence following a commercial break, that something bad had happened to JAN HOWARD.

The radio audience, having heard the full announcement and that the evening's show was being presented in dedication to one of its last "grand ladies," became immediately aware that Jan had passed away. The TV audience had to wait for "confirmation" from the hour-long segment host VINCE GILL.

The sloppy sendoff was in keeping with the Opry's historic treatment of Jan. As I have written: "In her 1987 autobiography, Sunshine and Shadow, Howard recalls attending a March, 1971 party at [BILL] ANDERSON's house.
[Grand Ole Opry manager] BUD WENDELL also attended the soir
é
e.

"Upon leaving the party, Bud told Jan 'See you tomorrow night.'
"Howard, who not only toured with Bill Anderson but was also a featured performer on his self-titled syndicated television series, assumed that Wendell thought Anderson was scheduled for the Friday night Opry.
"When Jan told Bud 'Bill won't be there tomorrow night,' Wendell rhetorically asked if Howard would appear. Jan indicated she would not and Bud wanted to know why, since she was a member, wasn't she?
"'No, I've never been. I guess I've just been on so long I'm a fixture.''
I will always remember Jan for her candor and outspokenness. In later years, she became my neighbor and we often ran into each other at the H.G. HILL's grocery store (now Publix) on Nashville's Harding Road where she never hesitated to let me know what was on her mind.

****
Sometimes engaged couples have wedding jitters but the outcome is usually a literally different one than the following: Indeed, NATALIA ROSE MOUNT,
a veteran of the Nashville club scene (prior to its current lockdown), got the year off to a great start with the New Year's Day release of City.

Unfortunately, the 23-year-old singer songwriter who has entertained crowds ranging from patrons of Honky Tonk Central to Virginia Beach, Virginia's Cutty Sark Marina (not to mention the National Wild Turkey Federation) was arrested on March 22, 2020 in West Nashville. There Mount was charged with domestic assault following an incident that evidently began as a lovers' quarrel.

As a result, Natalia Mount and her
fiancée MICHAEL DREWS (originally from Virginia Beach) may be rethinking their engagement.

Police were summoned to a domestic disturbance at a Cabot Drive residence where Natalia informed them that she and Mike had been arguing. Both parties admitted that a verbal argument became physical. Natalia's version was that, as Michael was attempting to hold her, she pushed his face.

But Mike says Natalia hit his face

and

nose, bloodying Drews' schnozz.

After observing Michael's injuries, the police arrested and booked Natalia on a charge of domestic assault on a $1,500 bond.

Mazel Tov to my neighbors SONYA and RHETT AKINS on the birth of their son BRODY.

****
Dating one of the show's crew members at the time, many of my earliest, favorite Nashville music industry memories occurred during time on the WLAC-TV Hee-Haw set.

It was fun getting to know the regulars but quite a shock, frankly, to arrive at a rehearsal just as a street-clothed familiar face i had never met was exiting the TV station.

Having grown up loving the FIRST EDITION and watching Rollin' on the River I instantly recognized the face of the band, Kenny Rogers. What was KENNY ROGERS doing in Nashville?

The rock group and its syndicated TV series had long bitten the dust and Rogers was grateful for a fan's brief attention at what was, unbeknownst to me at the time, one of the lowest point in his life. (That, of course, quickly changed when Kenny got to know MARIANNE GORDON!)

Several years would pass before I saw Rogers again, but we became reacquainted when Kenny became the promotional face of Kenny Rogers' Roasters, his books (which I reviewed for country-music's leading publications and the Nashville Banner), and at a few events during the KEN KRAGEN and KIRT WEBSTER years including a news conference announcing Rogers' 50th anniversary TV special, a career retrospective at the Country Music Hall of Fame and Museum and earlier photo exhibit culled from one of Kenny's photography books at the Hall of Fame.

During the latter, an event publicist turned bully with a false accusation as a result of a misunderstanding. Everyone in the vicinity- the publicist was not originally among us- knew the facts and Kenny took it upon himself to be among those who had my back.

Yes, like everyone else, I'll remember Kenny's music and his other professional ventures. But while, I admire the polymath for his drive and affable disposition, I'm even more impressed with the mensch.

R.I.P. sweet music man...
The

Country Music Association is feeling the heat.

The 2020 CMA Music Festival will

not

go on as scheduled. Unofficially, that's a no-brainer.

Historically, the "official" word from the Country Music Association about anything of interest to its membership, media and country-music fans always follows the obvious.

CMA Fest 2020, as planned, is dead on the water. To paraphrase my fellow Minnesotan, WALTER MONDALE: They (in this case, the Country Music Association), won't tell you, I just did.

****


Covid-19 is not deterring S.G. GOODMAN from showcasing The Way I Talk at the Cannery Ballroom on March 20, 2020.

Thanks to DOUG HALL and LUCY VOLPE for the invitation to attend this media event.

****


Opining (see below) on my mention of
AARP: The Magazine
choosing
SHANIA TWAIN as its "cover girl," JOHNNY COUNTERFIT writes (in an email used with permission) "As per your Shania piece, I'll take a great looking 50 year-old like Shania over a tattooed 'inked' 25 year-old... anytime!"

****
Was it something I said? (See below.)

As instructed, Nashville supporters and undecided voters gathered at Public Square Park at 2 p.m. February 29, 2020 for an opportunity to hear Presidential Candidate PETE BUTTIGIEG ask for their vote, but it wasn't until over an hour later that Mayor Pete finally arrived.

In the meantime, the crowd listened to what could best be described as a mix tape of TIM McGRAW (My Next 30 Years), BRAD PAISLEY (Country Nation) and nearly a score of non-country singers' hits while waiting for the man of the hour. (I didn't make AMY KLOBUCHAR's Nashville rally of a day earlier because I only found out its time and location after the fact. I wonder what Amy's reaction would have been if I'd been able to show her a satirical column her famous father JIM KLOBUCHAR wrote about me when Amy was only seven years old!)

I've met and covered presidential candidates (and later presidents and former presidents) without regard to political affiliation since 1967 and was pleased to have the opportunity to shake hands with both Pete and CHASTEN BUTTIGIEG. Given the opportunity, I couldn't resist doing something I rarely do: Offer (Mayor Pete) a little unsolicited advice.

No known connection but on March 1, 2020- one day after we met- Buttigieg dropped out of the race. (If you want to know what my words of wisdom were, you know the drill: Email me with ADVICE FOR MAYOR PETE in the subject line and your name, city and state [or province/country is outside the U.S.A.] in the BODY of your email request.)
Undeterred by all the mishigas, on Monday, March 2, 2020 the day before Super Tuesday, I made it a point to be on hand for an ELIZABETH WARREN rally at the Exit In.
It was great to see one of Warren's biggest boosters, ASHLEY JUDD, again after several decades. Years ago when I was backstage waiting for an interview with Ashley's newly/about-to-be-famous mother and half-sister, I struck up a conversation with a stranger, making small talk as I awaited being beckoned away.
The stranger was giving me some anecdotal information I hadn't seen in any of THE JUDDS' publicity materials or in what few articles I'd read about them.

"Oh, do you know them (personally)?" I asked.
That's when the otherwise unknown teenager- and future Hollywood star- introduced herself to the embarrassed entertainment writer.
After Ashley gave her stump speech at the Warren rally and I watched the candidate's other boosters, DELTA RAE perform, I was ready to watch, listen to and perhaps meet the candidate. I won't tell you how long I waited or why I was oblivious to what everyone else there apparently knew from the git-go, but not only was Elizabeth Warren not present, rally organizers never said that she would be on hand.
I obviously didn't get the memo, but I've never heard of a rally for a (major) presidential candidate at which the candidate did not at least intend to appear.

Again, no known connection, but, as with the other candidates for whom I turned out (or intended to) at Nashville rallies (I've been to three Donald Trump rallies but none have been yet scheduled for Nashville in 2020), Elizabeth Warren officially dropped out of the race after the Super Tuesday results were announced.
SHANIA TWAIN graces the cover of the February/March issue of AARP: The Magazine. The cover story's byline belongs to one of my favorite writers (and fellow authors), ALANNA NASH.
UPDATE

: (See below and for possible future reference.) Here's the time line: I forwarded a copy of my original email to
JESSE KNUTSON and
SANDY BOONSTRA
to Jesse and Sandy on February 18, 2020, with the query "Did you receive this?"

On February 20, 2020, having received no response to that point, and because of some other information I will disclose if and when I'm am able to authenticate it and confirm its relevancy, if any, to what, if true, will be a larger story, I contacted Navex Global during business hours. (E.W. SCRIPPS Company, WTVF's parent company outsources risk management and compliance issues, relying upon Navex to conduct independent investigations.)

I was asked by Navex's intake screener if I wanted to provide my name. (He told me I could remain anonymous.)

Obviously, I provided my name, limiting my inquiry to the desire to hear from either Jesse or Sandy. I was provided a report key and password. (A little too cloak-and-dagger for me, but I don't make the rules...)

Wouldn't you know it? As sure as Mercury is in retrograde motion, at 5:24 p.m. Jesse emailed me, in part, "I saw you posted on your website about this... I have not applied for a job at 117 Entertainment nor been extended an official offer from 117. So the information you have been given is false, and I'd appreciate it if you [would] remove it so any potential employers don't think I'm unavailable."



I'm happy to reiterate Knutson's availability to potential employers

, as a result of excerpting his email to me as a part of this update. (I have several email accounts, and since I didn't see Jesse's email until close to midnight, my immediate response is a next-day reply.)



****

Speaking (writing?) of politics, didja know that, like yours truly, ZACH FARNUM has a political background? Zach was once a candidate for state senate in his home state of Rhode Island.

I've always explained my career change by saying I found my fill of politics in the music industry. I'm feeling that same sensation as I try to track down AUSTIN RICK (who seems to have done a disappearing act after reaching out to me not long ago- assuming I was not dealing with an imposter).

It's a crazy business: On February 15, 2020 I received, via first class mail, what appears to be a photocopy of an internal memo on "Newschannel 5 HD Network" letterhead. The mailing did not include a return address nor any other evidence of its origin, save for a Nashville postmark.

I receive tips all the time, and obviously prefer, and give more credence to, those that are not sent anonymously, but this memo, dated January 13, 2020, was one I wanted to check out. The process, I reasoned, was easy enough as the communication, which appears to have originally been an email reads "To: NewsChannel5 Staff, From SANDY BOONSTRA, Re: JESSE KNUTSON.

"Jesse Knutson is leaving NewsChannel 5. Jesse has done a remarkable job covering the music industry in Nashville. He owned it! No one could surpass his passion for the entertainment beat. So much so, that Jesse has decided to leave broadcasting to pursue a career in the music industry. Jesse's last day will be March 9th. We wish him all the best!"

I emailed Zach Farnum "I understand Jesse Knutson will be joining the 117 Group next month. Could you confirm that for me and, if my information is correct, the day Jesse will be starting his new career, his job title, etc.?"

My question
received an unexpected reaction, including Zach's advising "This is inaccurate information."

Upon contacting Zach, I simultaneously emailed Boonstra and Knutson, with whom I have, at separate points in time, interacted in the past. Where Farnum responded right away, I have yet to receive a response from neither Sandy nor Jesse re: clarification of Knutson's professional plans.

As we say in TV, "Stay tuned."


It's presidential primary season and early voting in Nashville has begun. According to FEC stats, some on Music Row (including those with the flimsiest of connections) are financial backers of their favorite candidates.

These include the following: MIKE CURB, SCOTT MOFFATT and BUZZ CASON. DONALD TRUMP supporters all, Mike has donated $5,600 Scott $45 and Buzz $35 to President Trump's re-election campaign.

Meanwhile, SARAH TRAHERN and DON SCHLITZ are solidly in the JOE BIDEN camp. (Sarah has contributed $1,000 to the Biden campaign, Don's contribution? $200.)

PETE BUTTIGIEG's campaign's financial supporters include HUNTER KELLY ($1,055) and CLINT HIGHAM ($1,000).

Feeling the Bern, BRANDI CARLISLE wanted to give a little more to the BERNIE SANDERS campaign than the average $18 donation Sanders has suggested he receives from his working class supporters, so she's ponied up $1,600.

BETTE MIDLER is apparently hedging her bets, donating $2,800 each to AMY KOBUCHAR's and ELIZABETH WARREN's presidential campaigns. (Midler's husband, MARTIN VON HASELBERG has also donated $2,800 to the Warren campaign.)

It's causes more than candidates, per sé, that have drawn EMMYLOU HARRIS' and BILL DENNY's attention. Emmylou has donated $837 to Act Blue's effort to end Citizens United while Bill donated $455 to the NRA of America Political Victory Fund.

****

SCOTT ADKINS Publicity invites Nashville media to journey to Crestwood, Kentucky's Fox Hollow Farm. The occasion is a February 18, 2020 press conference announcing the September 12-13, 2020 Hometown Rising Country Music & Bourbon Festival talent roundup "as well as... updates" on "partnerships and new initiatives for DANNY WIMMER Presents™ 2020 Louisville Trifecta festival series.
STACY HARRIS IS ON THE MAP!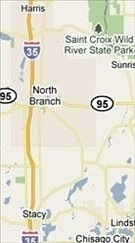 Infographic of WordPress Essentials by Industry – Brought to you from InMotion Hosting – A
VPS Hosting
Provider
``````
Top Resources for How to Make Money Online – Brought to you from InMotion Hosting – A
VPS Hosting
Provider
Have a comment or a question? Please check the

FAQs Page

(where you 'll learn of
Iceberg's identity) linked to this Report. Then feel free to respond to Stacy Harris by clicking

here.


READ THE PUFF PIECES AND THE HATCHET JOBS, THEN COME TO THE SOURCE FOR THE REAL DEAL!!!