The Official Website of Stacy Harris

Copyright © 2014
S
tacy's Music Row Report All Rights Reserved
BRENDA LEE heads the list of celebrities who will be a part of the Malt Shop Memories cruise November 2-9, 2014.

Mark your calendars!


LOIS JOHNSON(-SCOGGINS) will be memorialized twice: First at the ERNEST TUBB Texas Troubador Theater (next to the ET Record Shop at 2416 Music Valley Drive in Nashville) on July 16, 2014 at 7 p.m. Then again on July 19, 2014 near Knoxville at the Rutherford Memorial United Methodist Church, 78155 Corryton Road, Corryton, Tennessee. Visitation will be from 2- 4 p.m. followed by the 4 p.m. service.

Internment will immediately follow at Ousley Cemetery in Union County, Tennessee (behind the intersection of Highway 33 and Ailor Gap Road and

JOHN DEER

Drive and Heiskell Road.

Contributions to a memorial fund should be sent c/o C.J. MORGAN , Top Ten Productions, 1512 Cecil Avenue, Knoxville, TN 37917.

Those interested in being a part of either service or seeking additional information are invited to call Morgan at (615) 289-4815.


EMMYLOU HARRIS led mourners attending the July 14, 2014 JOHN SEIGENTHALER Celebration of Life (at Nashville's Cathedral of the Incarnation) is the singing of We Shall Overcome.
I was overcome by the view from the media section (and from the visitation at the First Amendment Center the day before) of the titans of politics, government and journalism, in particular as they came to pay their respects. When, as an entertainment journalist, you've met every entertainer you'd ever want to meet, your celebrities of choice, if any, have always been in other fields. I've had a half-century love affair with the KENNEDY family (which must be my destiny, given my fairly recent discovery through one of other loves- genealogy- that I am "related" through RORY KENNEDY's husband, MARK BAILEY).

So imagine my surprise encountering Dr. WILLIAM KENNEDY SMITH (whose mother, JEAN I met at a Davis-Kidd book signing) as I walked toward the cathedral and, following the service, having the chance to be reacquainted with ETHEL KENNEDY (whom I first met during the early '70s), and her son, JOSEPH KENNEDY, II (whom I almost met in 1967 when I met Joe's father, ROBERT KENNEDY in RFK's senate office and whom I finally got to meet in Nashville along with Joe's wife, BETH when Joe keynoted an HRC dinner here several years ago). Beth was by Joe's side when Joe (who along with his cousin, Willy and brother, ROBERT KENNEDY, JR. served as John Seigenthaler's honorary pallbearers) introduced me to his youngest (twin) son, Congressman JOSEPH KENNEDY, III whom I regaled with stories of having met so many of his relatives; Joe, III being the first of his generation of Kennedys I can now say I have met.
Several members of the Kennedy family are authors and like them (as well as several country-music stars-turned-authors), I had the pleasure of receiving and accepting an invitation from John Seigenthaler to appear on A Word on Words.

It remains one of the highlights of my 45-year career in journalism.

JAMES STROUD is seeking a D-I-V-O-R-C-E from his third wife, LAURA.
Laura, a Realtor, and James have been separated since May 19, 2014.

Want a job on Music Row?
Here are two from which to choose with a third industry position to boot if you'd rather work in Hendersonville:
Round Hill Music is looking for a Senior Analyst, Income Tracking. The ideal candidate will review, analyze and report on royalty income, overseeing "specific processes" that will assure that "income is received in a timely manner" or, in the case of income that is yet to be received "actively work with income sources to adjust and properly remit said income."

If you're into royalty statement analysis, synch performance and licensing, and tracking portal uploading, live performance and new media this position, with a salary in the $50,000 range for someone with five years' experience or more, is for you!

If you're more the Coordinator, Publishing Administration type, with one to three years' experience, Round Hill Music would like to interest you in a full-time position in "general music publishing administration.
The coordinator will report to the Head of Administration and be responsible for Song Delivery and Registration, Label Copy and Licensing, Copyright Research Administration and General and Sub-Publisher Administration; this in return for a salary in the $40,000 range. To apply for either of these positions, email a cover letter and résumé to the company by clicking here.

If you enjoy working in Sumner County, Daywind Music Group has a position that might interest you. The company is seeking a Catalog Manager who will work weekdays, five hours per day. "We need someone to process all aspects of new songs as they are written and keep the catalog organized as well as generally assist in other areas of music publishing. Résumés may be emailed to Daywind's Vice-President of Music Publishing, RICK SHELTON.
STACY HARRIS IS ON THE MAP!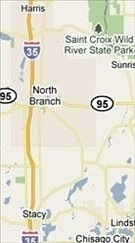 Infographic of WordPress Essentials by Industry – Brought to you from InMotion Hosting – A
VPS Hosting
Provider
``````
Top Resources for How to Make Money Online – Brought to you from InMotion Hosting – A
VPS Hosting
Provider
Have a comment or a question? Please check the FAQs Page (where you 'll learn of
Iceberg's identity) linked to this Report. Then feel free to respond to Stacy Harris by clicking here.