The Official Website of Stacy Harris

Copyright © 2017
Stacy's Music Row Report All Rights Reserved
Academicians have an ever-growing affinity for country music. While C-SPAN's Book TV snubbed my fellow author BILL ANDERSON during its most recent visit to Nashville (where its cameras provided "live" coverage from the Southern Festival of Books, authors' talks, followed by audience questions, also videotaped for future broadcast) the network's American History TV (a/k/a C-SPAN 3) is acknowledging country music as a college lecture subject.

As part of its ongoing
Lectures in History series (in which American History TV viewers, from the privacy of their own homes, are invited to turn on the tube and"audit" classes on various subjects taught by college professors across the United States), C-SPAN 3 sat in on
Dickinson College American Studies' Professor COTTON SEILER's class.

Seiler's subject? Colonial America, Race and the Origins of Country Music.

While he's no COTTON IVY, Cotton Seiler made an effort to engage his students and to interest them in the subject matter, by asking "How many of you like country music?"

The response (among its most desired demographic) would not impress the Country Music Association or the Country Music Foundation.

Even though only a hand or two was raised, Seiler was not discouraged (at least as long as the cameras were on him): "By the end of class you'll all love country music. I promise. You'll be going to the Country Music Hall of Fame.

"You should all be going to the Country Music Hall of Fame if you're in Nashville."

Seiler's lecture is currently running in light rotation on C-SPAN 3. You may also view it here.

Thanks to The Recording Academy Communications Team and Rogers & Cowan's Music Entertainment Team for the offer of media credentials for the 59th Annual Awards Grammy
®
Awards airing February 12, 2017.
****

Webster PR is ringing in the New Year on January 4, 2017 with a party at host KIRT WEBSTER's Big Buck Lodge in Hermitage, Tennessee.


****
No known connection, as PAUL HARVEY used to say, but just prior to NAOMI JUDD's public announcement of her bout with mental illness, WYNONNA was featured on the Nashville edition of one of my favorite radio game shows, Wait, Wait Don't Tell Me.

As the younger Judd regaled program host PETER SAGAL (and program panelists) with her familiar tales of how she happened on her stage name, marrying "a guy named CACTUS (MOSER)" and journeying "from an outhouse to the White House," the singer found the need to enliven her answers to Sagal's stock questions, with her classic lines (Of her "Bon Juddi" coif, Wy advises, "The higher the hair, the closer to heaven."), confessing to the National Public Radio host that, while growing up poor in Appalachia, "I was forced to listen to listen to NPR.")
For his part, Sagal gave as good as he got. Intrigued by a show researcher's finding that Wy is "something of an icon in the drag world," Sagal's observation reminded Judd of a "true story" of being told that "a black drag queen" once celebrated Halloween by dressing up as the singer.


Wy told people she'll "show up at anything... bar mitzvahs, nun conventions, Harley rallies..."

Intrigued, Sagal, who is Jewish, is amazed, imploring Judd to "go back" and tell the listening audience a little more about her performances at Jewish coming of age commemorations: "So little Courtney Berkowitz is being bat mitzvahed and, at the reception-"

Wy interrupts, singing the first line of "Grandpa (Tell Me 'Bout the Good Old Days)," then remarking "Oy!"

Mesmerized, Sagal tells his guest "I would like to hear you do Hava Nagila, if you remember it."

Cultural divide firmly in place, Judd laughs, explaining "I don't even know what that means."

This time it's Sagal's turn to laugh. "Oh, it's all right. I'm just going to spend a minute feeling really terrible at my- about my bar mitzvah."

Next order of business is to see how well Wynonna does playing a game called "A Judd By Any Other Name." As Peter explains, "You are part of the most famous Judd family in America, if not the world, so we thought we would ask you about some of the other Judds out there. Answer three Judd-related questions correctly and you'll win a prize for one of our listeners."

As a native Minnesotan, I'm surprised WALTER JUDD wasn't the answer to one of Sagal's questions- but I digress. To find out how Wy did, and for a transcript of the entire interview, email me with

WYNONNA, Wait, Wait

in the subject line, along with your name, city and state (province and/or country if outside the United States).
STACY HARRIS IS ON THE MAP!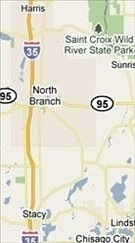 Infographic of WordPress Essentials by Industry – Brought to you from InMotion Hosting – A
VPS Hosting
Provider
``````
Top Resources for How to Make Money Online – Brought to you from InMotion Hosting – A
VPS Hosting
Provider
Have a comment or a question? Please check the

FAQs Page

(where you 'll learn of
Iceberg's identity) linked to this Report. Then feel free to respond to Stacy Harris by clicking

here.