The Official Website of Stacy Harris

Copyright © 2014
S
tacy's Music Row Report All Rights Reserved
From the emailbag (and used with permission), EDD HURT writes "I recently wrote what I believe is the first extensive article on the obscure '70s duo the COUNTRY CAVALEERS."

Hurt explains that he first became aware of the artists while watching reruns of The WILBURN BROTHERS Show.

"Perhaps this will give you a laugh or two, and provide a glimpse into the vanished world of '70s Nashville."

I'm pleased to share a link to Edd's work, "in the Aug-Sept. issue of JASON GROSS' online music magazine, Perfect Sound Forever."

While thanking Edd for sharing "another wonderful example of your excellent work," I told him that "I vaguely remember the Country Cavaleers, and recently saw them on The Wilburn Brothers Show you referenced (on Famnet), but didn't realize they had such illustrious "producers."

Reading Hurt's two-parter, I also learned that ALAN COFER will soon be adding to his credits, Wilburn Brothers' biographer. DOYLE and TEDDY still have a strong fan base behind an effort to secure the duo's induction into the Country Music Hall of Fame.

Perhaps Cofer's book will give the Wilburns' fans the necessary momentum, in the form of a gentle reminder, to make that induction a reality. Posthumous though it would be, such recognition is richly deserved and long overdue.
TOMMY CASH needs a publicist!

The Sixth Floor Museum at Dealey Plaza has compiled "25 Things: August Musical Tributes to PRESIDENT [JOHN] KENNEDY." Museum officials realize that "This list is only a small collection of the many folk songs, classical compositions and compilations created as an ode to President Kennedy" but, even so, Cash's hit recording, Six White Horses, is a glaring omission.

Planning to be in Dallas? Tour the museum anyway and, while you're at it, ask to listen to the January 27, 2014 interview I granted Associate Curator STEPHEN FAGIN, assisting Fagin with the museum's oral history project.


****

The International Bluegrass Music Association's news conference announcing the nominees for the 25th Annual IBMA Awards, set for 4:45 p.m. August 13, 2014 at The Factory's Liberty Hall, presented something of a schedule conflict in that it coincided with a same-day, same-time invitation from DREW MAYNARD and KIRT WEBSTER to join KENNY ROGERS at the Country Music Hall of Fame and Museum for a press conference and "VIP and Media Exhibit Preview" of Kenny Rogers: Through The Years.
What to do! Requesting and receiving permission to be late for the latter, I journeyed to Franklin, took in the IBMA's exciting news (the highlights of which may be found here) and, at the event's conclusion, high-tailed it (in rush hour traffic) to downtown Nashville where events that began with a news conference I missed (rescued from the usual inanity, RANDI RADCLIFF told me when I asked what I had missed, by Kenny's repartee) and short musical performances by DON SCHLITZ and CHARLIE WORSHAM that were just concluding as I arrived at the Hall of Fame's Conservatory where the reception was about to begin.
Among the hundreds of people gathered I managed to chat with Randi, NORAH LEE and DUANE ALLEN, DIANNE SHERRILL, LINDA DAVIS and LANG SCOTT before we were ushered to the exhibit area where Kenny, cover boy for the August, 2014 issue of Mature Lifestyles of Tennessee, chatted with the lines of guests who gathered to briefly gab or pose for a picture with an entertainer who is truly a people person.
As happy as I was to see Kenny (whom I first met in 1977, when I was a fixture on the Hee Haw set, and Rogers was taping his series debut as a guest artist), I was thrilled to meet both MARY ARNOLD and TERRY WILLIAMS (Terry was accompanied by his lovely wife, DEBRA).

I was curious about Terry's being alternately credited as Terry Benson. Terry tells me that his surname at birth was Benson but that he took his mother's maiden surname as his professional surname, in part as a tribute to her creating a family musical legacy that began when his father, TOMMY DORSEY's first-chair trombonist met BONNIE LOU WILLIAMS, the Dorsey orchestra's featured female vocalist.

BRENDA LEE heads the list of celebrities who will be a part of the Malt Shop Memories cruise November 2-9, 2014.

Mark your calendars!


LOIS JOHNSON(-SCOGGINS) will be memorialized twice: First at the ERNEST TUBB Texas Troubador Theater (next to the ET Record Shop at 2416 Music Valley Drive in Nashville) on July 16, 2014 at 7 p.m. Then again on July 19, 2014 near Knoxville at the Rutherford Memorial United Methodist Church, 78155 Corryton Road, Corryton, Tennessee. Visitation will be from 2- 4 p.m. followed by the 4 p.m. service.

Internment will immediately follow at Ousley Cemetery in Union County, Tennessee (behind the intersection of Highway 33 and Ailor Gap Road and

JOHN DEER

Drive and Heiskell Road.

Contributions to a memorial fund should be sent c/o C.J. MORGAN , Top Ten Productions, 1512 Cecil Avenue, Knoxville, TN 37917.

Those interested in being a part of either service or seeking additional information are invited to call Morgan at (615) 289-4815.


EMMYLOU HARRIS led mourners attending the July 14, 2014 JOHN SEIGENTHALER Celebration of Life (at Nashville's Cathedral of the Incarnation) is the singing of We Shall Overcome.
I was overcome by the view from the media section (and from the visitation at the First Amendment Center the day before) of the titans of politics, government and journalism, in particular as they came to pay their respects. When, as an entertainment journalist, you've met every entertainer you'd ever want to meet, your celebrities of choice, if any, have always been in other fields. I've had a half-century love affair with the KENNEDY family (which must be my destiny, given my fairly recent discovery through one of other loves- genealogy- that I am "related" through RORY KENNEDY's husband, MARK BAILEY).

So imagine my surprise encountering Dr. WILLIAM KENNEDY SMITH (whose mother, JEAN I met at a Davis-Kidd book signing) as I walked toward the cathedral and, following the service, having the chance to be reacquainted with ETHEL KENNEDY (whom I first met during the early '70s), and her son, JOSEPH KENNEDY, II (whom I almost met in 1967 when I met Joe's father, ROBERT KENNEDY in RFK's senate office and whom I finally got to meet in Nashville along with Joe's wife, BETH when Joe keynoted an HRC dinner here several years ago). Beth was by Joe's side when Joe (who along with his cousin, Willy and brother, ROBERT KENNEDY, JR. served as John Seigenthaler's honorary pallbearers) introduced me to his youngest (twin) son, Congressman JOSEPH KENNEDY, III whom I regaled with stories of having met so many of his relatives; Joe, III being the first of his generation of Kennedys I can now say I have met.
Several members of the Kennedy family are authors and like them (as well as several country-music stars-turned-authors), I had the pleasure of receiving and accepting an invitation from John Seigenthaler to appear on A Word on Words.

It remains one of the highlights of my 45-year career in journalism.

JAMES STROUD is seeking a D-I-V-O-R-C-E from his third wife, LAURA.
Laura, a Realtor, and James have been separated since May 19, 2014.

Want a job on Music Row?
Here are two from which to choose with a third industry position to boot if you'd rather work in Hendersonville:
Round Hill Music is looking for a Senior Analyst, Income Tracking. The ideal candidate will review, analyze and report on royalty income, overseeing "specific processes" that will assure that "income is received in a timely manner" or, in the case of income that is yet to be received "actively work with income sources to adjust and properly remit said income."

If you're into royalty statement analysis, synch performance and licensing, and tracking portal uploading, live performance and new media this position, with a salary in the $50,000 range for someone with five years' experience or more, is for you!

If you're more the Coordinator, Publishing Administration type, with one to three years' experience, Round Hill Music would like to interest you in a full-time position in "general music publishing administration.
The coordinator will report to the Head of Administration and be responsible for Song Delivery and Registration, Label Copy and Licensing, Copyright Research Administration and General and Sub-Publisher Administration; this in return for a salary in the $40,000 range. To apply for either of these positions, email a cover letter and résumé to the company by clicking here.

If you enjoy working in Sumner County, Daywind Music Group has a position that might interest you. The company is seeking a Catalog Manager who will work weekdays, five hours per day. "We need someone to process all aspects of new songs as they are written and keep the catalog organized as well as generally assist in other areas of music publishing. Résumés may be emailed to Daywind's Vice-President of Music Publishing, RICK SHELTON.
STACY HARRIS IS ON THE MAP!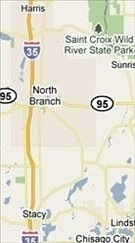 Infographic of WordPress Essentials by Industry – Brought to you from InMotion Hosting – A
VPS Hosting
Provider
``````
Top Resources for How to Make Money Online – Brought to you from InMotion Hosting – A
VPS Hosting
Provider
Have a comment or a question? Please check the FAQs Page (where you 'll learn of
Iceberg's identity) linked to this Report. Then feel free to respond to Stacy Harris by clicking here.