The Official Website of Stacy Harris

NorthStar Studios will be the place to be December 2, 2015. That's when media are invited to a taping of RFD-TV's Larry's Country Diner.
A

MANDA FRENCH CLARK notes that the event marks an opportunity to "get an up-close-and-personal look at what goes on behind-the-scenes" of "one of the last remaining live-to-tape spontaneous variety shows."
****

Report reader MARVIN LEE ADCOCK is a Cottonwood Falls, Kansas-based songwriter whose songs are being demoed and pitched in Nashville. You can learn more about Marvin, his work and
catalog by clicking here.
I am posting an interview
I conducted with (CHARLES) FELTON JARVIS for a Summer, 1978 issue of Hit Parader, courtesy of
Report reader JUAN LUIS GONZALEZ who sent me the scans so that you made read the article here.
WHOOPI GOLDBERG thinks KEITH HILL is an idiot.

While Goldberg didn't mention Hill by name, there was no question to whom she was referring when, on the November 23, 2015 edition of ABC-TV's The View, after JOY BEHAR read verbatim Hill's now-famous summary of his radio "research" findings, with respect to country radio's receptivity to female artists (or the lack thereof), Goldberg (evidently an authority on the history of country radio- and
JOHNNY CASH
) suggested that Hill "must not know country music history at all... Johnny Cash wouldn't have stood for that at all.

"Please, this guy- don't consult with him. He's an idiot."


The UK-based
Country Music People

's
November issue (with CHRIS YOUNG on the cover) features ADRIAN PEEL's interview with SAM OUTLAW in which Outlaw opines: "One of my favourite things about traditional country music is that if you have sense of humour, that'll actually count for something."




Vice-President JOE BIDEN had some of us present at the Music City Center November 5, 2015 scratching our heads as he gave the keynote address at the annual National League of Cities Conference, when he referred to EMMYLOU HARRIS as a veteran civil rights activist. To be sure, Harris is an animal rights activist, but, given the context of his remarks, Biden was obviously confusing Emmylou with the late FANNIE LOU HAMER.

DARIUS RUCKER was on hand for the conference, concluding November 7, 2015 with a concert headlined by MARTINA McBRIDE and featuring GABE DIXON and JASON ESKRIDGE.

****
Dessert was on the menu at an invitation-only November 6, 2015 listening party, at Sound Stage Studio, in celebration of the release of JOHN BERRY's

What I Love the Most

.
(Thanks, John, for your kind, personal note. Please let me know when the Amazon artwork and link for your new release is available so that I might provide my readers the update.)


Column's congrats to my former neighbor and Grammy Award-winner SHARON ISBIN, subject of the PBS documentary Sharon Isbin: Troubadour; winner of the ASCAP Foundation's newly-announced 2015 DEEMS TAYLOR/VIRGIL THOMSON Television Broadcast Award. The prestigious award is bestowed upon only one film each year.




LOCASH will be the guest-of-honor at an "exclusive listening party" for the group's new e.p., I Love This Life, at Conway Entertainment.

According to AMANDA FRENCH CLARK, the project contains "six brand-new tracks- five of which were penned by (PRESTON) BRUST, (CHRIS) LUCAS, or both. The duo's signature wine, Shipwrecked, will be served as Preston and Chris share intimate, behind-the-scenes details of writing and recording the new album- their first major release since 2013.

I Love This Life will be available digitally on October 30 but you can pre-order here.
****



BRAD PAISLEY discusses his need for speed, the thrills, spills and the like, with JOHN PEARLEY HUFFMAN in the current edition of Car and Driver.


ANNA WEBB has invited me to be among those on hand for the Nashville Connection Heroes Salute at Legislative Plaza beginning with Opening Ceremonies at 9:30 A.M. on
October 14, 2015, kicking off a week-long series of music industry patriotic events for singers and songwriters. IRLENE MANDRELL and DARRYL WORLEY will be on hand to welcomes guests from all over the country, representing several musical genres, connect, network and otherwise interact with participants from military and related veterans organizations in an event saluting, honoring and benefiting Gold Star Mothers and Post Traumatic Stress Disorder (PTSD) injury victims.

Then, at 4:30 p.m., I've been asked back to the same location as invited guests will greet the
Songster Bus arrives in Nashville.

More information on the festivities is available here.
****

Thank to TOMMY CASH for the invitation to join him, several family members, friends and hosts BRIAN and SALLY OXLEY for private party and afternoon of entertainment at the Bon Aqua, Tennessee farm formerly owned by JOHNNY CASH October 11, 2015.

DIANE JORDAN even captured some of the fun on her Facebook page.


With the announcement of the country music songwriters, all previously honored, who are nominees for the 2016 Songwriters Hall of Fame awards, there's a certain redundancy to "honoring" those who have previously been honored for the same achievement. Therefore, I suppose the value of duplication was inadvertently explained by BUD WENDELL (see below) during Wendell's acceptance speech preceding the unveiling of Bud's star in the Music City Walk of Fame.

As Bud expressed gratitude by quoting MARTY ROBBINS, he interrupted himself, indicating that there were likely segments of the crowd (for whom MIRANDA LAMBERT was the draw) who have no idea who Marty was- as Bud proceeded to tell them.

Thus the reminder by example that it all begins with a (specific, great) song (or body of work), it can be argued, can't be repeated enough.

Either that, or Nashville just doesn't have enough great songwriters to perpetually (and fairly) rotate the honors...
."

Thanks to JOHN RICHARDSON for an invitation to the October 6, 2015 Artober Nashville artist reception honoring Nancy cartoonist GUY GILCHRIST at InDo Nashville.

The invitation for the evening reception commemorating the (last) 20 years of Nancy, reads "Join us for the exhibit opening celebration, with cocktails, live cartooning demonstrations, book signings, and musical performances."

Thanks to BUTCH SPYRIDON and BONNA JOHNSON, I was among media covering the October 6, 2015 induction of the four newest recipients of stars on the Music City Walk of Fame.

Master of Ceremonies BILL CODY began the festivities by introducing Nashville's Mayor MEGAN BARRY, who, in turn, acknowledged the presence of RICHARD LEIGH and several city council members.

PETER COOPER then took the stage to introduce the afternoon's first inductee: BUD WENDELL. Despite some health issues, Wendell rose to the occasion, noting that honorees and presenters had more protection from the heat (Nashville still enjoys summer weather in October) at the outdoor event than those of us looking for a shady area from which to take in the celebration. Wendell said the number of us fanning ourselves reminded him of his summer evenings as Grand Ole Opry manager, decades before the Ryman's renovation when,finding themselves in a building without air conditioning, Opry fans famously fanned themselves while, from the hallowed stage, a performer might issue instructions to the crowd along the lines of "Fan faster. It's hotter up here on stage."

Just before he left the stage to pose with his newly-unveiled walkway star, Wendell quoted a dying MARTY ROBBINS, a fellow member of the Country Music Hall of Fame, who accepted his Hall of Fame induction by saying "I'm not sure I deserve it, but I'm going to take it anyway."

TOMMY CASH represented his brother as JOHNNY CASH posthumously received a walkway star. Cash suggesting that, if the Man in Black "were here today he would probably say, 'Well, I got another plaque.'

"But he deserved it. And he also deserved the Johnny Cash Museum because he put a lot of work into everything he did."

JOE CHAMBERS inducted STEVE CROPPER. Cropper, acknowledging Tommy Cash's reminiscences of his late older brother (including a 13-year-old J.R., as he was then known, teaching five-year-old brother Tommy to swim, but throwing the little boy into Arkansas' Tyronza River, told a story about his time on the dais at a Johnny Cash Roast with WAYLON JENNINGS and JESSI COLTER.

As Jennings was roasting Cash, at the Peabody Hotel function, Waylon was interrupted by a thunderous thud. Not missing a beat, Jennings eyed his wife, joshing "Jessi, did you drop you wedding ring again?"

DIERKS BENTLEY introduced the afternoon's last honoree, citing his fellow road warrior's "artistry." MIRANDA LAMBERT, sporting dark glasses, expressed her gratitude and updated her fans, indicating she spent this past summer writing music that they will be hearing in the near future.


Report reader MARK TOMEO is first with the news that
PAGES OF PAUL's Amanda O video has just been released.
You may watch it here.


LARRY GATLIN and the GATLIN BROTHERS surprised those who had been gathering since The Factory's doors opened at 1 p.m. October 3, 2015 for a 2:30 p.m.
DONALD TRUMP
rally with a performance that even surprised Larry, Steve and Rudy!

Originally, what Larry joked was the trio's extended soundcheck at the Williamson County Republican Party event, was to be a surprise appearance limited to a performance of The Star-Spangled Banner. However, on that rainy day in Franklin, Tennessee, delays due to both rain and the unpredictability involved, given the sheer number of people, as rally organizers ranging from party officials to security worked with JEREMY WESTBY, tried to accommodate an overflow crowd something had to give.

To be sure, Williamson County's own U.S. Representative MARSHA BLACKBURN was on hand to fire up the crowd with a short speech, while MAURY DAVIS disabused anyone of the notion that public prayer should be inclusive by declaring, as the prelude to an invocation, that "I'm going to pray to the only God that

really

exists, JESUS CHRIST."

In preparation for the off-the-cuff remarks the crowd came to hear- Donald Trump's- there was more time to fill with popular (THE BEATLES'
Hey Jude
) and seemingly most presidential-contender-appropriate (ELTON JOHN Rocket Man) original recordings ringing through the rafters, after the Gatlins led the crowd in The Pledge of Allegiance,

What to do? Keeping pre-recorded music to a minimum, the Gatlins agreed to keep the growing crowd from getting restless with live performances of what turned out to be a mini-concert: specifically, Houston, Help Me, Broken Lady and All the Gold in California before the aforementioned recorded music played and concluded as all the gold in New York-Trump- ascended the stage to the thunder (no pun intended) of the crowd's rock star welcome.

Once on stage, the Republican presidential candidate called on the Gatlins (though at this point only Larry was available) to join him on stage as Trump thanked Gatlin for entertaining the crowd proceeding to tell us that Larry lived at Trump Tower for several years prompting Gatlin to tell the audience a little more about the Trump-Gatlin connection. Larry's version of the story was that his purchase was investment property, prompting Trump to indicate, as Larry left the stage, that Gatlin's having owned the property, greatly enhanced its resale value (and hence the Trump Tower's value) in a manner that pleased both men as Larry, who like Trump, is very publicly opinionated (his Factory appearance being now exception), explained that he believes his role is to entertain and not to tell his fans how to vote, stopped just short of a Trump endorsement.

DEL BRYANT was on hand enjoying the Gatlins' performances and to observe The Donald charm the crowd of supporters, many of whom, following Trump's speech, were rewarded with autographs and selfies before, as he from the stage to a facility exit, where following a brief respite from the rain, as he approached a media gaggle who joined him outside, Trump encountered the overflow crowd, making them his first priority, signing more autographs and posing for more selfies.

Wearing my laminated media badge (courtesy of JULIE HANNAH TALEGHANI, TRISH POOLE,
JOHN McENTEE, and HOPE HICKS), with Trump surrounded by national and local media on all sides, I jockied for space on the makeshift platform hoping to get the candidate's attention long enough to ask him a question as he turned from one side to another. I'm not as physically aggressive as these gaggles demand (the "victors" are often competitors who proceed to the point of rudeness), so I was very grateful when my colleague,
LARRY FLOWERS
, sensed my dilemma and provided some room I could squeeze my way into once I proceeded security who were never far from media, nor their charge, to let me squat under the barrier created by equipment cords and the like, all to Donald Trump's amusement.

"Why, hello there," somewhat startled, he greeted me, as I rose from a crouch to a standing position. Turning to another reporter on his opposite side, since my laminate largely covered by a raincoat, Trump momentarily took me for an exuberant fan who had broken a barrier. But when it became apparent that his security people were not hauling me off, and perhaps getting a better look at my laminate through my unbuttoned, pink rainwear, Trump was more than happy to take my question.

Noting that The Donald joked, in response to a question during the most recent CNN debate among his fellow contenders for the Republican Party's 2016 presidential nomination, that his Secret Service code name should be "Humble," I questioned why, since no one calls Trump a shrinking violet, the candidate details his plans on how to make America great again, but prefaces descriptions of his plans by saying "

If

I win..."

In keeping with Trump's personality, why not "

When

I win..."?

Apparently that's not a question Donald Trump has been asked before, because he didn't know how to respond other than by indicating he didn't feel it necessary to change his rhetoric and suggesting that he was content, given the prospect of opposition and, I gather, some respect and appreciation for competitors who are also working hard for a chance to lead their country.

"You're Invited." That was the subject line of KIRT WEBSTER's email requesting that I join the famed LIZZIE GRUBMAN,
KELLI WAUSILAUSKI
and my media colleagues for lunch at The Palm October 2, 2015.

Lizzie (whom I met for the first time that day) was in Nashville that day to support, and assist Kirt and Kelli in introducing Music Row's media to the luncheon's guest-of-honor, MIKE SMITH.

Mike, accompanied by his wife,

ERIKA

(the mother of Mike's six children- all under the age of 11), and SKIP BISHOP (who offered a few introductory remarks) delighted the luncheon crowd with a big-screen photo montage (sort of a tease while we anticipate the video's release) illustrating the self-explanatory theme of his first single,

Hard Working Man

.

Smith, expressing gratitude for his manager, NIOSHI JACKSON, made the rounds, getting to know his luncheon companions.

Philadelphia-born, Mike is poised to become country music's first Cuban-American star (Smith's mother was born in Havana, Cuba and though, "I'm not supposed to say it, my family is related to FIDEL CASTRO," Smith told me. I was about to continue to keep that information between us until, after reading Mike's bio, distributed to media as we left the luncheon, I found the even more precise information, indicating Mike's maternal grandmother and the Cuban dictator are first cousins (Castro having "kicked my family out of the country"), being freely distributed as part Mike Smith's publicity kit that also references Mike's "family tree" playing "a huge role in his heritage" in that, Castro deported her, Mike's grandmother returned to her homeland "with my mother, and it turned into an international incident. He actually detained her.

"When I was a kid, we had six refugees" Castro deported "living with us for a while. That was definitely an important part of my life. Having that upbringing made me a little different from all the kids I was hanging out with in school."


Philly's famous music scene largely having become a thing of the past before Mike was born, the singer says the music influencing the his songwriting regiment (Smith writes six songs a day) are the hits of the 1970s. In fact, after leaving Pennsylvania Smith lived in several states including New Jersey, Michigan and North Carolina, the state he considers home.


Mike, who records for his own label, SMH Records, insuring his requirement of creative control over his music, is also an instrumentalist. He plays 10 instruments and, like his Palm audience, is looking forward to the release of his
Hard Working Man
album.

Until then, we'll have to be content to continue to enjoy Mike's tribute to everyday working Americans.


In an effort to avoid missteps such as GARTH BROOKS' BOB DOYLE miscalculation, promotion for the release of GEORGE STRAIT's Cold Beer Conversation includes a pricey, full-color Tennessean spadea wrap.
STACY HARRIS IS ON THE MAP!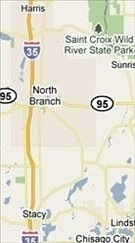 Infographic of WordPress Essentials by Industry – Brought to you from InMotion Hosting – A
VPS Hosting
Provider
``````
Top Resources for How to Make Money Online – Brought to you from InMotion Hosting – A
VPS Hosting
Provider
Have a comment or a question? Please check the

FAQs Page

(where you 'll learn of
Iceberg's identity) linked to this Report. Then feel free to respond to Stacy Harris by clicking

here.