The Official Website of Stacy Harris

Copyright © 2018
S
tacy's Music Row Report All Rights Reserved
Bill DeYoung's new book, Phil Gernhard: Record Man begins with its subject's suicide.

With nowhere to go but up, DeYoung paints a picture of MIKE CURB's collaborator, the guy RODNEY CROWELL describes as an "enigma, wunderkind, control freak, visionary, raconteur, artist advocate, shameless hustler and... kind heart"
who rose through the ranks to figure (arguably) prominently in the careers of MAURICE WILLIAMS and the ZODIACS, TIM MCGRAW, DION DiMUCCI,
JO DEE MESSINA,
THE BELLAMY BROTHERS, JIM STAFFORD, LOBO, DEBORAH ALLEN, RODNEY ATKINS and the proverbial many others.

Just as impressively, DeYoung notes that while Williams, WES VAUSE and others were happpy to dish about a music mogul who is depicted as having cheated as many musicians as he helped, Howard and David Bellamy, Dion, MICHAEL LLOYD,
DOUG MO
RIS, TONY SCOTTI, Jo Dee and Tim were among those Bill "contacted and either did not respond or declined to be interviewed for this project."

Understandably, David Bellamy might not have been eager to revisit the subject of why the writing credit for Spiders & Snakes, which David wrote, was changed to "Jim Stafford and David Bellamy."

Among Gernhard's many claims to fame is the fact that he co-wrote (with DICK HOLLER) Snoopy vs. the Red Baron, a 1966 year-end hit peaking at #2 in Billboard where it remained for a month. That being the case, what kept the song from the #1 position and why were The Royal Guardsmen one-hit wonders?

It's a great story, one songwriters will especially appreciate as a hint is offered, courtesy of DeYoung's breakdown of the profits to the Snoopy song alone: Assuming a fan paid 89 cents for the 45, CHARLES SCHULZ, who owned the rights to the cartoon characters referenced but had no part in writing the song, got a three-cent override. In plain English, this means that Schulz's cut of the 89 cents was three cents. Holler, as cowriter, got half-cent from each 89-cent copy sold, Gernhardt as co-writer, the (wigged) Guardmen's producer and "manager" received 1 1/2 cents and The Royal Guardsmen, a sextet, got 2.7 cents split six ways!


From the emailbag (and used with permission) DEBBIE MATHIS WATTS writes: "MIKE SCHRIMPF and I have a number one song on [the] Indie World chart" with "BOBBY G. RICE's A Place in Your Heart."

Debbie, the reigning Ms. Senior Tennessee USA ("Let's hear it for a senior who never gives up!"), will be performing the Schrimpf co-write "and some other songs" November 17, 2018 during songwriter night at Tunesmith at Aloft Hotel.

"BTW, our Ryman Diaries is still going strong. This is our fourth year AND I got a congratulatory postcard from LIN MANUEL MIRANDA.... Once we have finalized our performance schedule for Ryman Diaries for 2019 your readers will be able to see it at wattsd2.wix.com/rymandiaries.
"We are premiering two shows next year:

My Tennessee First Ladies

(where I portray RACHEL JACKSON, SARAH POLK and ELIZA JOHNSON) and my 'Women's History Month Tribute to Ladies of Country Music' on March 28th at the Metro Library
.
"I'll be competing in the 2019 Ms. Senior USA Pageant. I'll keep you posted on that."
Believe it or not, JESSI COLTER and SHELLEY FABARES were once roommates. Also, improbable but true, JAY LENO was once WAYLON JENNINGS' opening act.

If you look deeply enough into your family tree you're bound to find some celebrity relatives (No, I'm not referring to my cousin, JONNY KATZ).

Most people know that TEX RITTER and JOHN RITTER were father and son, with John and his son, JASON RITTER, sharing the same designation. But I'm in search of anyone who can confirm, with as much specificity as possible, that Tex and the late Senator JOHN TOWER were distant relatives, as has been reported, without any sourcing, elsewhere.

The two Texans shared an interest in politics and they were even photographed together on September 12, 1968 (along with my friend, whom I met four years later, Tex's other son TOMMY) at the Nashville Airport.


It's been a little more than seven and one-half years since invited guests, including this writer, were on hand to join the OAK RIDGE BOYS at the February 25, 2011 news conference/unveiling of the quartet's caricatures, then as now, on permanent display at the Palm. Most recently, JEREMY WESTBY has invited us to join the Oaks on September 14, 2018 for a return visit as they join the downtown Nashville restaurant in honoring JIM HALSEY with a signature caricature of his own, as with the scores of other notables honored, to be on permanent display. (When you see Jeremy, congratulate him on his celebration of 20 years in the music business.)
.
****

BARBARA PAYTON biographer
JOHN O'DOWD wants those who have taken an interest in Barbara's story to know that he is putting the finishing touches on

Barbara Payton: A Life in Pictures

, a 560-page coffee table "photo book" to be published in mid-October, 2018.

WILLIE NELSON is the subject of Dr. KAY JOHNSON-GENTILE's article, Willie Nelson: A Spiritual Outlaw, appearing in the August, 2018 issue of ACS Publications' newsletter.

Thanks to British Buddy DOUG HALL for offering to add yours truly to the guest list for LEAH BLEVINS' August 17, 2018 High Watt performance. "I will be working with [Leah] going forward on her publicity and to say I am beyond excited is an understatement... She has one of the most beautiful, pure and honest voices I have ever heard and [is] a talented, original and unique young singer-songwriter poised for major success."
Meet and Greet, as well as interview opportunities and complimentary drink tickets have been provided to media accepting BEV MOSER's invitation to attend the August 9, 2018 CRAWFORD & POWER CD release and performance party at the Wildhorse Saloon.

KENNY CHESNEY's August 11, 2018 email with the subject line "Happy Birthday to a True Friend" certainly got my attention: Kenny has my email address? He considers me a "true friend?" He thinks I'm a Leo and wants to wish me a happy birthday?

I suspected something was not kosher in Denmark and the body of the email (blast) proved me correct: Kenny
wanted me and the other email recipients to sign a birthday card intended for former President BILL CLINTON (who, unlike me, has an August birthday) and to "give a gift" in his honor.


TAYLOR SWIFT, the cover girl for Harper's Bazaar's August, 2018 issue is not the subject of a feature in that issue. Rather, Taylor turns interviewer, profiling PATTIE BOYD.

Swift concludes the interview by telling her subject "I would love to look back on my life with the same clarity, wisdom, and peace that you seem to have."

BOBBY RYDELL's autobiography of a couple years back was quite a sleeper, but those of us who read it know Bobby's BILLY "CRASH" CRADDOCK story- and now you do:

In June, 1960 Rydell was booked on a show in Australia with THE EVERLY BROTHERS and other top rockers. Arriving at the Sydney airport, Bobby, Don and Phil Everly deplaned to a warm welcome they assumed was for them.

Instead, the crowed rushed past America's rock royalty to get to some stranger.

You guessed it: The welcome turned out to be for Craddock who, at the time, had the #1 hit there that week, Boom, Boom Baby.

Another little-known fact of Rydell trivia; Bobby once played in a charity golf tournament with TENNESSEE ERNIE FORD.


"Please be our guest at an album release celebration in honor of J2B2 (JOHN JORGENSON Bluegrass Band) on Thursday, June 28, 2018 from 4 to 6 p.m. at the BMI Theatre..."

So read KISSY BLACK's invitation to join John and "band members HERB PEDERSON, DARIN ALDRIDGE and MARK FAIN... playing live and answering questions to celebrate the July 13 release of of From the Crow's Nest (to be reviewed here shortly)."

As it turned out, flight logistics prevented Herb's appearance, but attendees' disappointment was minimized by the last-minute recruitment of Darin's "better half," BROOKE and of JON RANDALL to join in the performance of many of the songs from an album with a cryptic title that actually references SHERYL CROW's home studio, atop a horse barn.

Randall, in fact, is among a list of songwriters including BILL ANDERSON, GUY CLARK, RODNEY CROWELL, J.D. SOUTHER, MITCH JAYNE, RODNEY DILLARD and CHRIS HILLMAN, whose songs appear on From the Crow's Nest.
.

Report reader KEN SPOONER, his wife, ANNE, BOB OERMANN, MARY BUFWAK, PETER COOPER, VERNELL HACKETT, ED MORRIS, DAN HAYS and DEBORAH EVANS PRICE were among those enjoying the show and various refreshments provided on the hot summer day, including lemonade, tea, bottled water and home-baked cookies courtesy of NANCY CARDWELL.






You're reading it here first: VICTORIA HALLMAN and DIANA GOODMAN, best known as the Hee Haw Honeys, are now my fellow authors.
Hallman and Diana have written a book titled Hollywood Lights, Nashville Nights: Two Hee Haw Honeys Dish Life, Love, ELVIS, BUCK and Good Times in the Kornfield. ROBERT REYNOLDS has contributed a short and sweet blurb to the work: "My first crushes were the Hee Haw Girls [sic]."



From the emailbag, ICEBERG-FAQ #21 writes, "Hi, Stacy, We met many years ago on a Southwest flight to Tampa. Am also an avid reader of your Nashville Scene posts.

"With the developers circling the wagons around Bobby's Idle Hour, just the latest apparent casualty of Music Row 'redevelopment,' I thought this song might help drum up awareness about what we've lost, AND, what we stand to lose if the wrecking balls keep reeking havoc on our beloved Music Row."

.
A famous jingle to the contrary, there was no love lost between JIMMY DEAN and SARA LEE after Dean sued the company in February, 2004 in response to its dumping him in May, 2003 as its commercial spokesman for the eponymously-named sausage company Dean founded in 1969.

(The Jimmy Dean Meat Company was
originally overseen by Jimmy's younger brother, DON DEAN . Don remained as president of the company until he and Jimmy had a falling out; so serious that the two only spoke once in the last 15 years before Don died of cancer.
Sara Lee, then known as Consolidated Foods Corporation, purchased The Jimmy Dean Foods, a the growing company came to be known, in 1984 for $15 million.)
Jimmy's lawsuit argued that, having given him the boot (no pun intended) Sara Lee continued to use his name, signature and image on its products without Dean's consent, violating the severance agreement by invading his privacy with the misappropriation of Jimmy's name, thus unjustly enriching Sara Lee.

Sara Lee had already removed Dean's personal quality guarantee from the packaging of the products bearing Jimmy's name, but, as a result, of a 2005 federal district court ruling barring Sara Lee from continuing to indicate that its Jimmy Dean products carried the singer's endorsement, for the next decade Sara Lee cooled it even as Jimmy Dean held on to one share of stock in what had once been his company alone, just so he could attend the Sara Lee shareholders' meetings (though Jimmy's presence at the annual meeting in 2003 made for an unusually tense presentation).

A year after Jimmy Dean's death on June 13, 2010, Sara Lee split into two units and its North American operations (including the Jimmy Dean product line) took the Hillshire Brands corporate name and in 2014, Tyson Foods acquired Hillshire and Sara Lee, thus the Jimmy Dean brand.

One wonders what the sausage king would have thought of Tyson's Summer 2018 ad campaign for its Jimmy Dean product line. Evidently, Tyson has fashioned a lucrative agreement with Dean's widow, DONNA MEADE (who married Jimmy in October, 1991 following [MARY] SUE, Dean's wife of 40 years, suing Jimmy for divorce, on grounds of adultery, in 1990) since Tyson's ad campaign features Dean's voice, photo and cursive signature.

The series of TV ads, all voice-overs, appear to have been culled edits of past ads and perhaps other Dean snippets. Here are transcripts of three ads currently running:

"I'm Jimmy Dean and, uh, isn't a sunrise something? I honestly feel that way about Jimmy Dean Sausage. Get yourself a large chunk of that good mornin' feelin,' Oh, that smells good! Umph!"


"I'm Jimmy Dean and, uh, Mother Nature sure doesn't cut any corners when she paints a morning like that. And we know there is no shortcut to quality. And that's why we use nothing but the very best sausages money can buy. Paint yourself a beautiful mornin.'"


"I'm Jimmy Dean and, uh, I wish I could tell you how I feel about a morning like this. And that includes a good, hearty breakfast. You need something to warm the whole body up and get it going. It's a great way to kick off your day."
.


Flag Day or, more specifically, the evening of June 14, 2018, seemed to be an appropriate time for the Mary Hong Gallery to host a Tribute to TROY GENTRY. SHELLY MULLINS coordinated the remembrance, occurring less than three months before the first anniversary of Gentry's untimely death.

GUY GILCHRIST, (whose Nancy Loves Nashville and The Muppets Take Music City opened June 2nd and will remain on display through the end of the month at the gallery)
came up with the idea to honor Gentry, with a series of Gilchrist's hand-painted string instruments, original pen and ink drawings, comic strip panels and other limited edition cartoon memorabilia, serving as a backdrop for an evening of music (featuring, Gilchrist, Halfway to Hazard and surprise guest JIMMY PAYNE).

'Troy's widow, ANGIE was on hand to speak of the work of the newly-announced Troy Gentry Foundation, which will raise money for the causes dearest to Gentry's heart, such as music education, homeless military veterans and the eradication of cancer.

Foundation funds were kicked off with the auction of one of Gilchrist's hand-painted guitars, which Guy was able to secure a $1,000 winning bid by tossing in some of his artwork once the bidding reached $600.
Kids of all ages enjoyed the fun that included the appearance of Batman, one of Gentry's favorite costumed characters of print, stage and screen.


There was a time when observers wondered when CONWAY TWITTY's estate fight, bitter as it was, might end.

A quarter-century following the singer's death, the way has been cleared to put many of his personal effects up for sale.

Apparently, Twitty's heirs would rather have the cash than, any longer, to hang on to Conway's 1934 Martin 0-17 acoustic guitar, his Greatest Hits: Volume 1 gold record, a one-of-a-kind Hello Darlin' oil painting, Conway's stage clothes and more.

Interested? Place your bids here.
TRACE ADKINS
was the featured entertainer at President DONALD TRUMP's
May 29, 2018
rally at Nashville's Municipal Auditorium.


JARED SMALL handled media credentialing and it was fun to mingle with my national and local print and broadcasting peers as we heard the president give (and update) his stump speech, speaking for about an hour after a retiring GOP congressman, Republican midterm candidates, LARA TRUMP, a minister, a Republican party official and Trace served as the chief executive's "opening acts."

Taking the stage to perform the first of three songs for a crowd that carried placards with phrases like

I Love The Dow

(there was a guy, who did not appear to be transgender, as far as I could tell, hoisting a

Women For Trump

sign) Trace began by praising THE ISAACS' for their performance of The National Anthem, calling it "The best rendition of The National Anthem I've ever heard!," before launching into Still A Soldier, followed by Arlington and Ladies Love Country Boys.

When President Trump took the stage he complimented the former Celebrity Apprentice explaining, "I don't know how he knew this, but [Ladies Love Country Boys] is IVANKA's favorite song."
BEN RUE
discusses life after a type 1 diabetes diagnosis with BAILEY McGRATH in the Summer, 2018 issue of Diabetic Living. (Ben learned he was diabetic at age 14.)

Sad news for fans of CMT's Nashville. The parents of series stars LENNON STELLA and MAISY STELLA are splitting up. The real-life teenaged sisters' mother, MARYLYNNE filed for divorce from BRADLEY PETER STELLA in Davidson County Circuit Court on April 25, 2018.

Brad has 30 days from the date of service in which to respond. Once a response has been filed, the case will be assigned to one of the "two Phils:" Judge PHILIP SMITH or Judge PHILLIP ROBINSON.



I'm not passionate about Christian Music, for obvious reasons, but if you are, and would like "to serve songwriters and publishers as a Publishing Administrator," do I have a job for you!

If selected, you'll "work with VP of Administration and Corporate Affairs to assist with royalty administration tasks for HoriPro Entertainment Group. The position will also assist [sic] with some licensing and copyright duties."

Qualified applicants will have three to five years of music publishing administration experience, be Microsoft Excel proficient, extremely detail-oriented, highly organized, skilled researchers able to "self-prioritize multiple workloads and maintain a positive attitude under the pressure of deadlines," be quick-learners able to "master new software and technology applications," and draw on "solid analytical and mathematical problem solving abilities." They will also need to be "excellent writers" and skilled verbal communicators.

If you're interested in this full-time job
(including benefits), email your
résum
é, including references, to Carrie.

For a list of other current Music Row job openings, go premium.




Thanks to KATHERINE FARRELL, organizer of the Music Notes track, for the offer of Collision 2018 media credentials. The annual conference is set for April 30- May 3rd at the ERNEST N. MORIAL Convention Center in New Orleans.

Further information on the event click here.


STACY HARRIS IS ON THE MAP!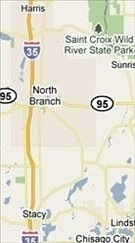 Infographic of WordPress Essentials by Industry – Brought to you from InMotion Hosting – A
VPS Hosting
Provider
``````
Top Resources for How to Make Money Online – Brought to you from InMotion Hosting – A
VPS Hosting
Provider
Have a comment or a question? Please check the

FAQs Page

(where you 'll learn of
Iceberg's identity) linked to this Report. Then feel free to respond to Stacy Harris by clicking

here.